National Women Entrepreneur Summit organised by RIF
Category : Events | Sub Category : RIF Posted on May 13th, 2023
---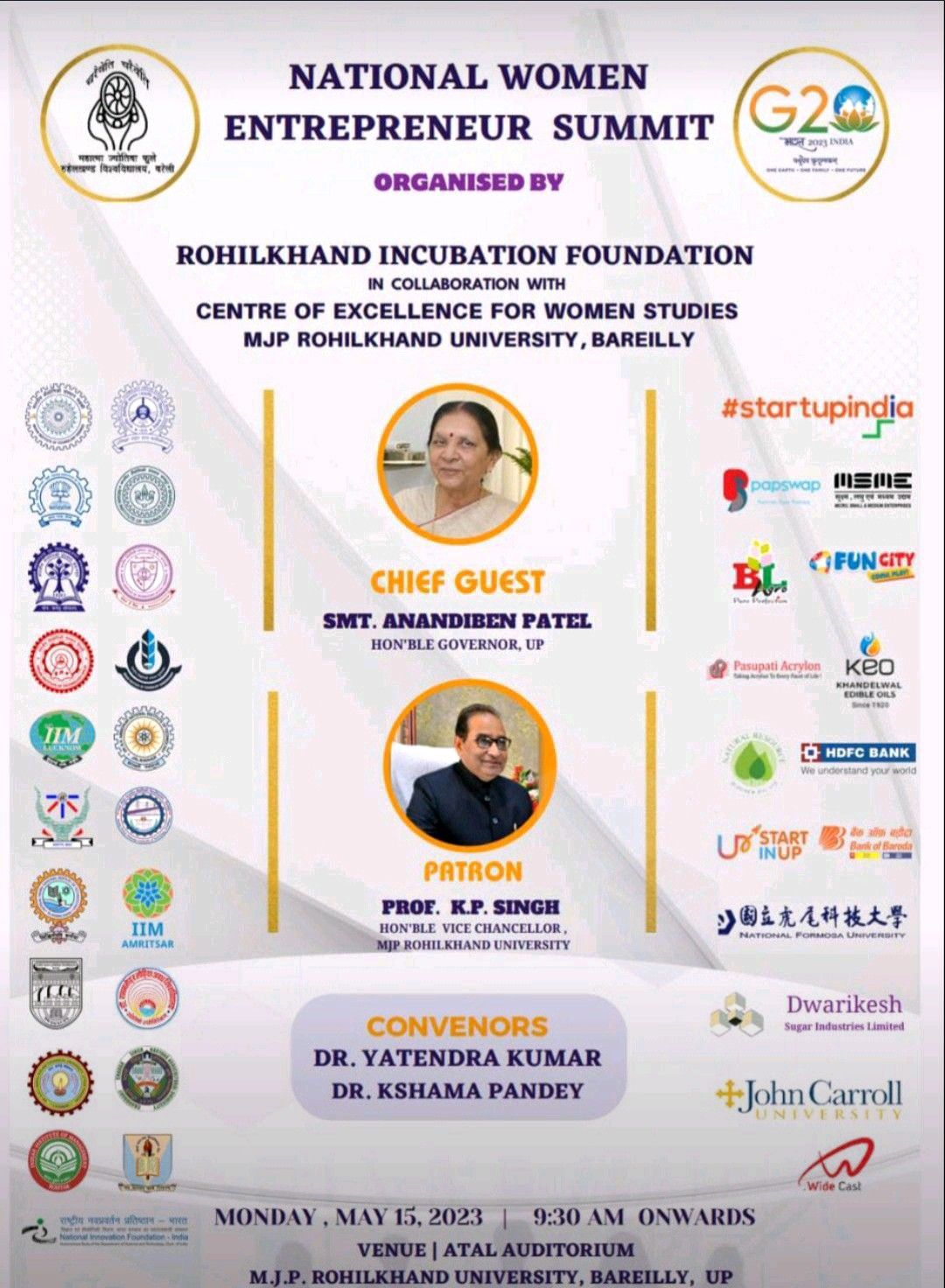 Rohilkhand Incubation Foundation, a non-profit organization that supports startups and entrepreneurs, recently organized a National Women Entrepreneur Summit on 15th may 2023. The summit aimed to provide a platform for women entrepreneurs from across the country to showcase their ideas, connect with investors and mentors, and gain valuable insights into the world of entrepreneurship.

The event was held over two days and featured a series of talks, panel discussions, and networking sessions. The summit brought together women entrepreneurs, investors, and industry experts from various fields such as technology, healthcare, and education.
The summit opened with an inspiring keynote address by Ms. Shikha Sharma, a well-known business leader and former CEO of Axis Bank. Ms. Sharma spoke about her personal journey as an entrepreneur and shared insights on the challenges and opportunities that women face in the world of business.
The panel discussions at the summit covered a range of topics, including funding opportunities for women entrepreneurs, scaling up a business, and leveraging technology for growth. The panelists included successful women entrepreneurs, venture capitalists, and experts from various fields.
One of the highlights of the summit was the startup pitch competition, where ten women-led startups presented their ideas to a panel of judges. The startups covered a range of sectors, including e-commerce, fintech, and healthcare. The winner of the competition received a cash prize and an opportunity to pitch to potential investors.
The summit also featured a mentorship program, where women entrepreneurs had the opportunity to connect with experienced mentors from various fields. The mentors provided valuable guidance and support to the entrepreneurs, helping them overcome the challenges of starting and growing a business.
Overall, the National Women Entrepreneur Summit organized by Rohilkhand Incubation Foundation was a great success. It provided a valuable platform for women entrepreneurs to connect with investors, mentors, and experts from various fields. The summit showcased the incredible talent and potential of women entrepreneurs in India and highlighted the need for greater support and opportunities for women in business.