Ideathon-23 presented by RIF
Category : Events | Sub Category : RIF Posted on May 12th, 2023
---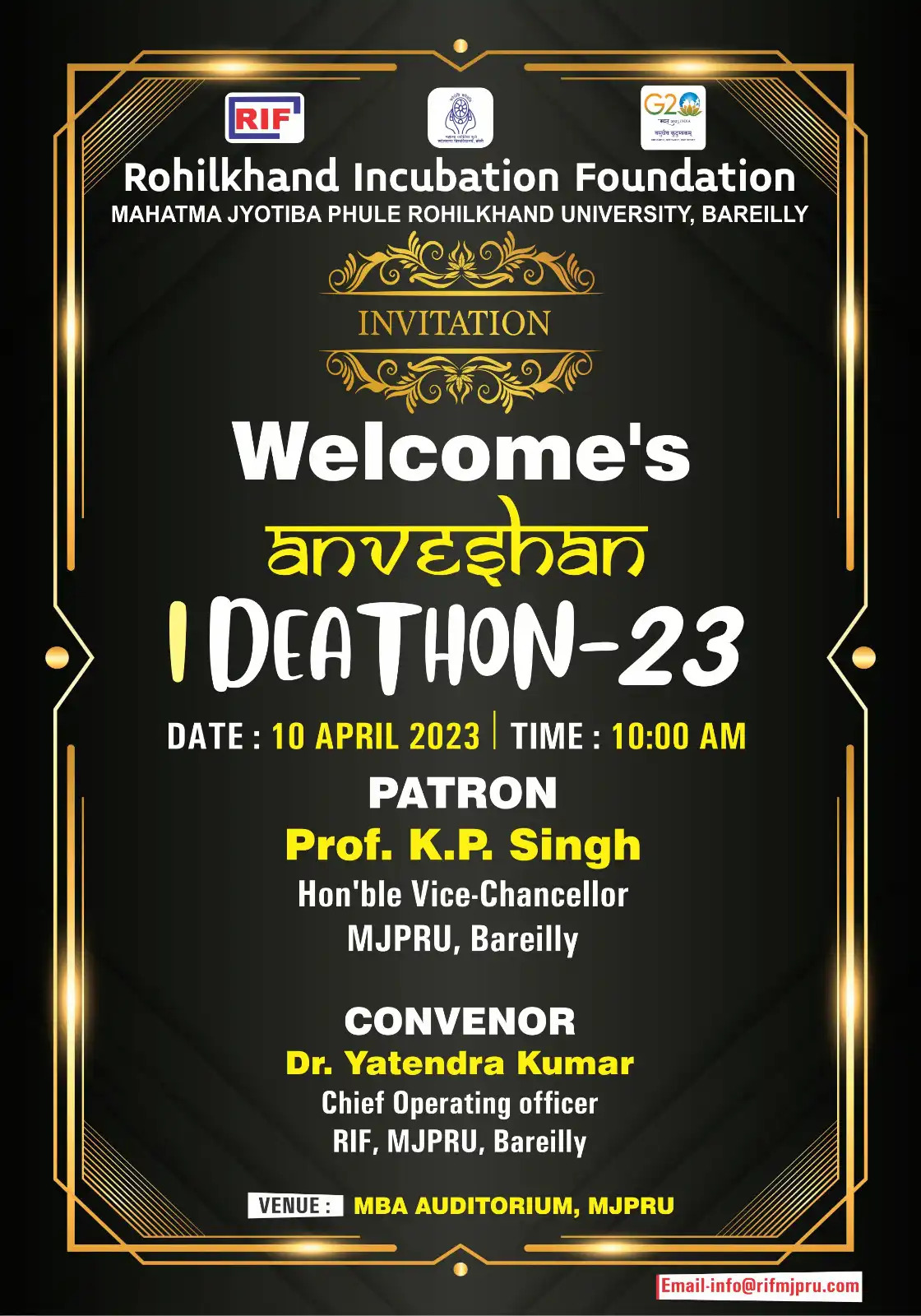 The Rohilkhand Incubation Foundation (RIF) is an organization that is committed to promoting innovation and entrepreneurship in the Rohilkhand region of Uttar Pradesh, India. To this end, they have organized an event called Ideathon-23, which is designed to encourage young people to come up with innovative business ideas that can help drive economic growth in the region.


Ideathon-23 is a unique event that is open to anyone with an interest in entrepreneurship, innovation, and business. The event will bring together some of the brightest minds in the region, including entrepreneurs, business leaders, investors, and academics, to collaborate, share ideas, and provide guidance to participants.


The event is designed to help participants refine their business ideas, develop new skills, and build valuable connections with others in the startup ecosystem. The RIF team has assembled a panel of judges who will evaluate the business ideas presented during the event, with the goal of selecting the most promising ideas for further development and funding.


Ideathon-23 is a great opportunity for young people in Rohilkhand to learn about entrepreneurship and innovation, and to gain valuable experience in developing and pitching their own business ideas. The event is also an opportunity for the RIF to showcase the potential of the Rohilkhand region as a hub for innovation and entrepreneurship.


One of the key goals of the RIF is to create a supportive ecosystem that can help entrepreneurs and innovators in the region overcome the challenges they face when starting and growing a business. Ideathon-23 is just one of the many initiatives that the RIF has launched to help achieve this goal.


Overall, Ideathon-23 is an exciting event that has the potential to drive real economic growth in the Rohilkhand region. By bringing together young people with innovative business ideas, experienced business leaders, and investors, the event is creating a platform for collaboration and innovation that could help create new businesses and jobs in the region for years to come.